Gone are the days of the traditional greasy fast food truck . In today's culinary landscape, gourmet food stalls are taking center stage, let's learn more about some new Ideas for Food Stalls which are offering a delightful fusion of convenience and high-quality cuisine within a compact space whether you are planning to setup your food business from home in india or at street, These modern small fast food stalls have revolutionized the industry, providing talented chefs with a cost-effective avenue to launch their culinary ventures without the hefty investment required for a full-scale restaurant.
If you're looking for inspiration to embark on your food stall journey, this guide is here to help. We'll explore a range of popular and exciting ideas for food stall that you can bring to life and start right away. These ideas encompass a diverse array of culinary delights, each with the potential to captivate the palates of eager customers. So, let's dive in and discover the world of culinary possibilities waiting to be explored:
Poke Street Food Stall Ideas for Food Stalls
Bring the Hawaiian flavors to the streets with a poke stall. Serve fresh and customizable bowls featuring marinated raw fish, vibrant vegetables, and delicious toppings. Offer a variety of poke options, including traditional Hawaiian flavors and creative fusion combinations.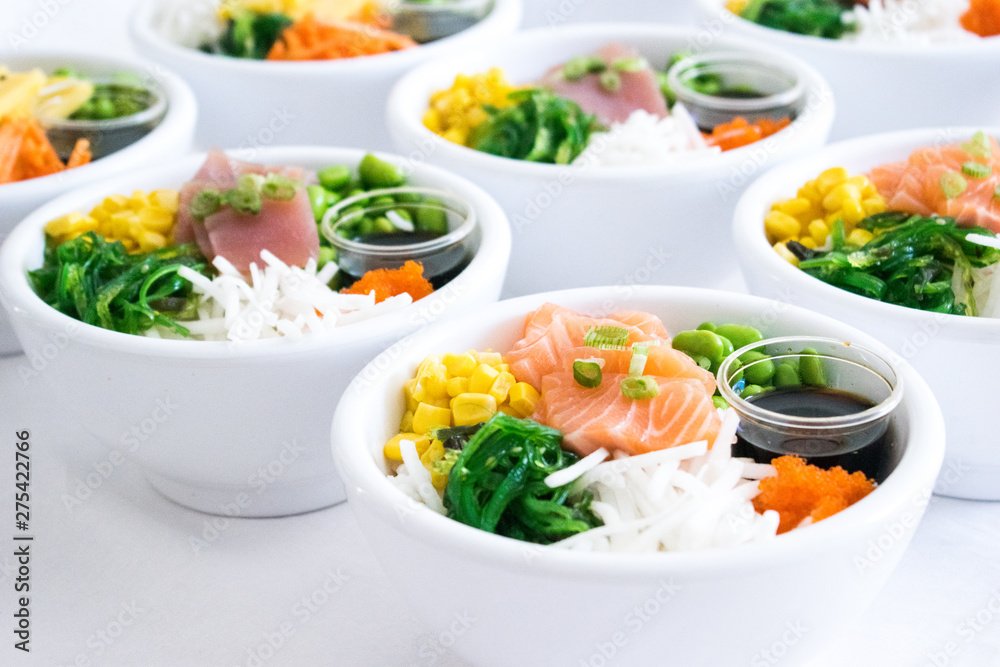 Grilled Sandwich Ideas for Food Stalls
Elevate the classic grilled sandwich by offering a variety of gourmet fillings and artisanal bread. Experiment with unique flavor profiles, such as grilled veggies with goat cheese or smoked turkey with cranberry relish, to entice customers with tantalizing options.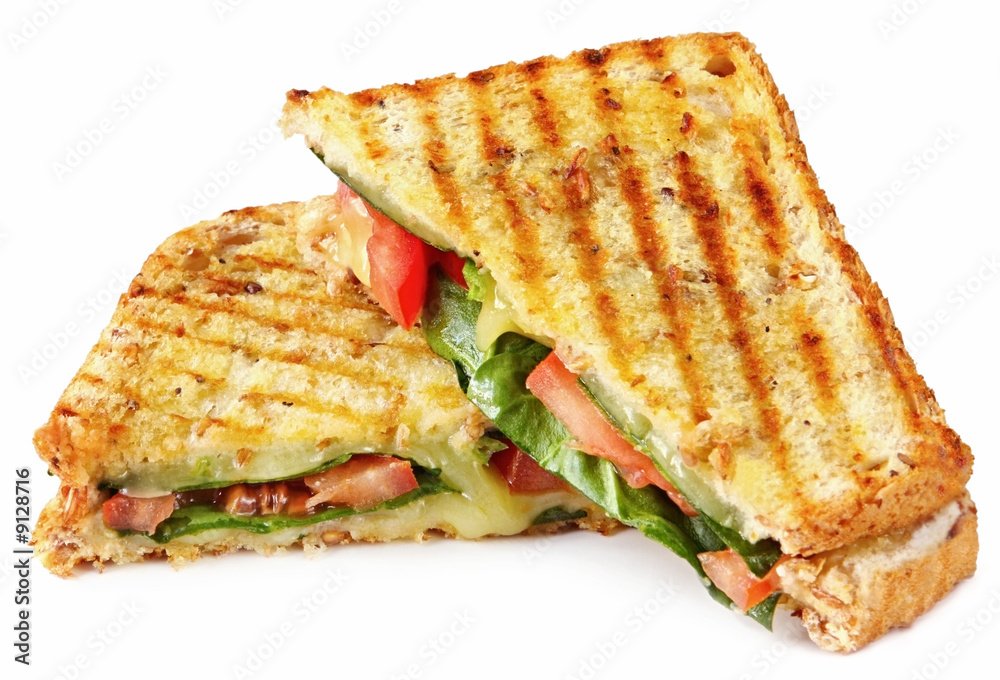 Thai Food – Pad Thai : Ideas for Food Stalls
Introduce the bold and aromatic flavors of Thai cuisine with a dedicated Pad Thai stall. Serve up this beloved stir-fried noodle dish with a choice of protein, fresh vegetables, and a medley of Thai spices, offering customers an authentic taste of Thailand.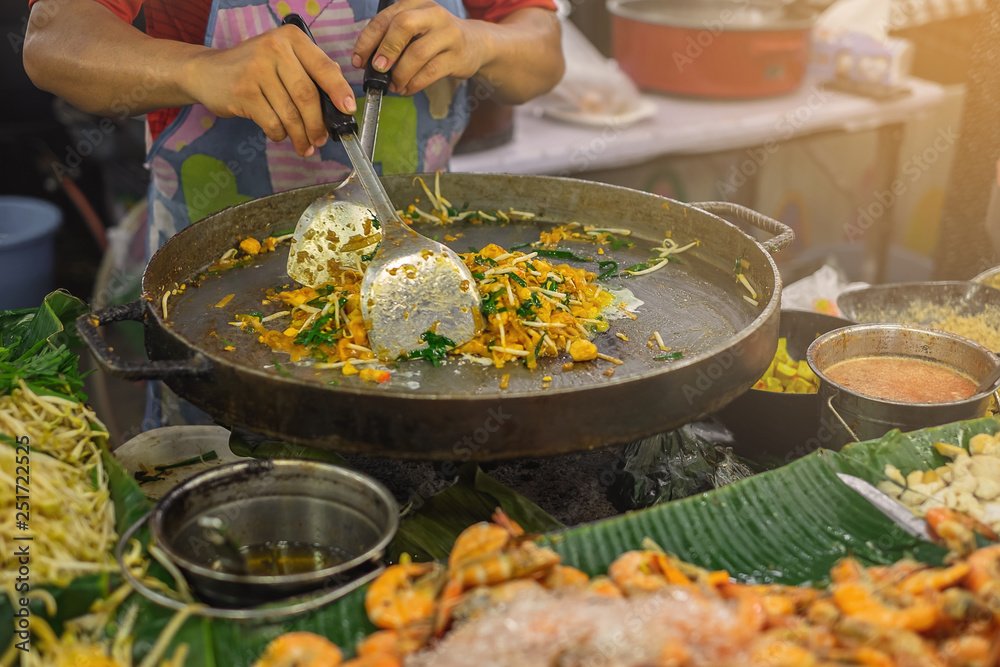 Thai Food – Pad Thai Stall
Bibimbap Ideas for Food Stall
Bring the flavors of Korea to the streets with a Bibimbap stall. Offer a variety of rice bowls topped with marinated meats, colorful vegetables, and a spicy gochujang sauce. Allow customers to customize their Bibimbap with different protein and vegetable options.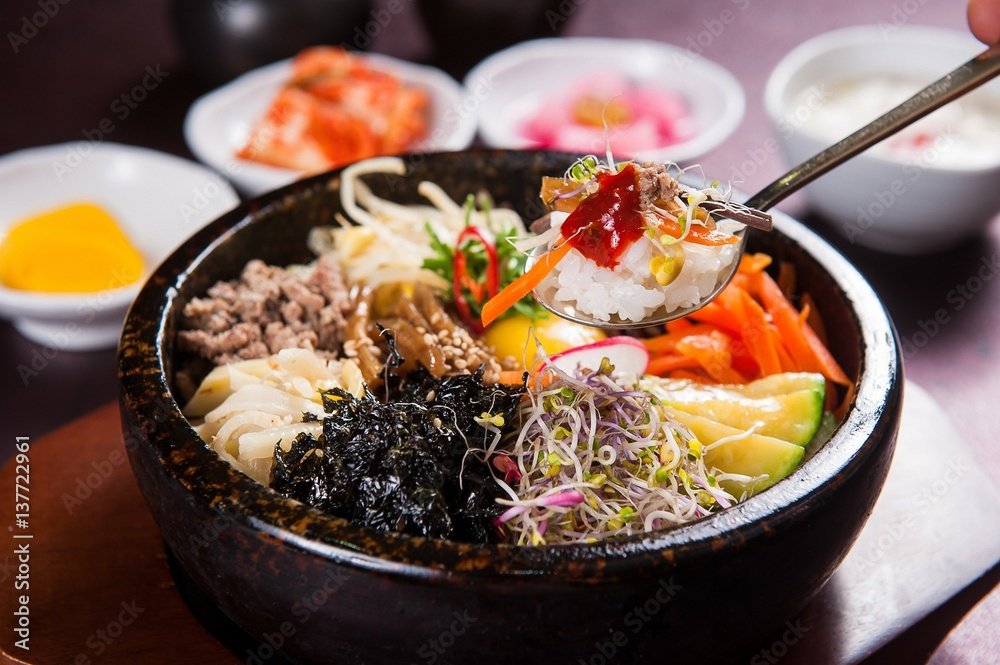 Giant Hotdog Street Food Ideas for Food Stalls
Create a spectacle with a stall that serves giant-sized hotdogs. Offer a range of toppings and condiments, from classic mustard and ketchup to unique combinations like jalapenos and cream cheese, satisfying the cravings of hotdog lovers.
Burgers Stall Ideas for Food Stalls
Set up a stall that specializes in mouthwatering burgers. Use high-quality ingredients, including juicy beef patties or gourmet veggie options, and complement them with a variety of cheese, toppings, and sauces. Offer unique burger creations to cater to diverse tastes. These are good menu items for Cloud Kitchen Business startups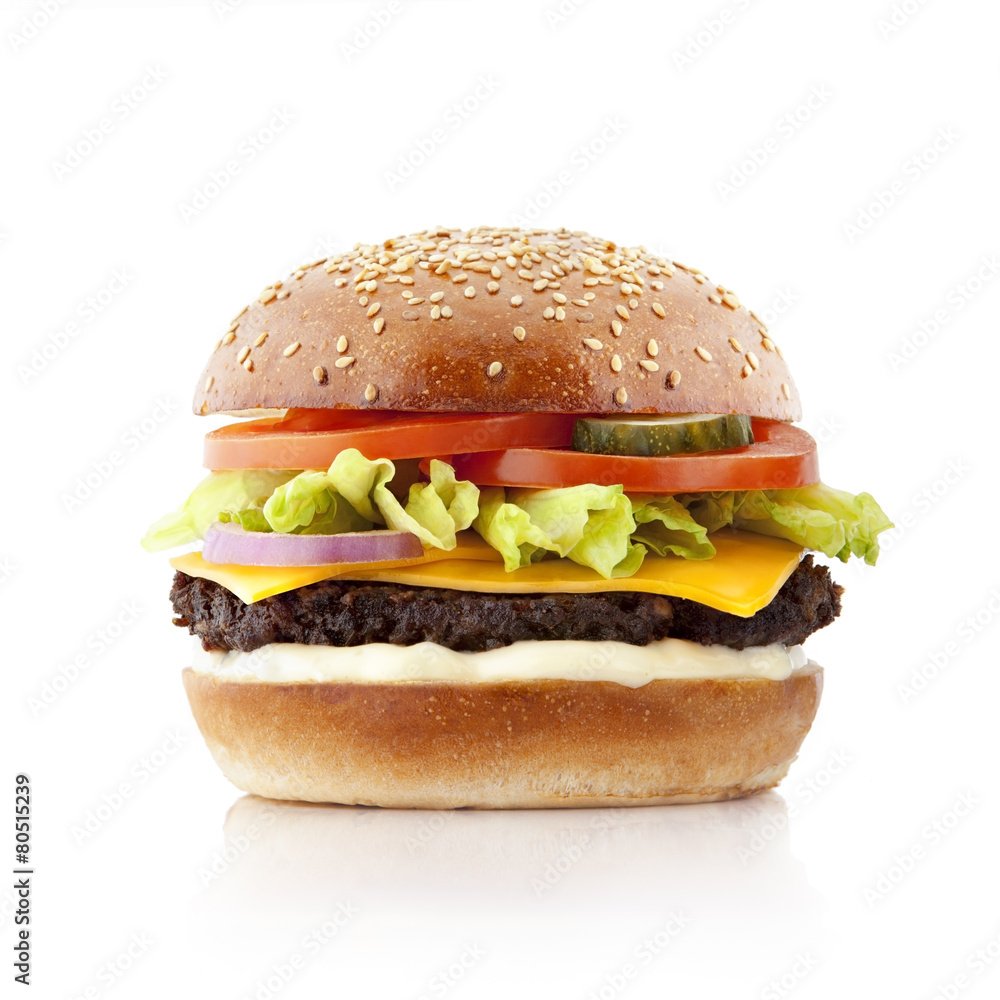 Risotto Stall Ideas for Food Stalls
Bring the richness and creaminess of Italian risotto to the streets. Prepare variations like mushroom risotto, seafood risotto, or asparagus and Parmesan risotto, providing customers with comforting and flavorsome options.
Tacos Stall Ideas for Food Stalls
Serve up a taste of Mexico with a taco stall. Offer a variety of fillings, including marinated meats, grilled veggies, and flavorful salsas. Provide both soft and crispy shell options, allowing customers to mix and match their favorite combinations.
Waffles Stall Ideas for Food Stalls
Delight customers with sweet and savory waffle creations. Serve classic Belgian waffles with toppings like fresh fruits, whipped cream, and chocolate drizzle. Additionally, experiment with savory options like chicken and waffles or bacon and cheese waffles.
Corn on the Cob Stall, Good Ideas for Food Stalls
Bring a classic street food experience with a corn on the cob stall. Grill or boil fresh corn and offer a variety of seasonings and toppings, such as butter, cheese, spices, and tangy sauces, providing a delicious and nostalgic treat.
Street Food Stall Ideas That Are Sure to Flourish:
This category encompasses various street food ideas that have proven to be popular and successful. It could include innovative concepts like Korean BBQ tacos, loaded nachos, gourmet grilled cheese sandwiches, fusion sushi rolls, or exotic fruit stalls.
Pizza:
Offer freshly baked pizzas with a range of toppings and crust options. Provide both classic flavors like Margherita and pepperoni, as well as unique combinations to cater to different taste preferences.
Vegan cuisine:
Meet the growing demand for plant-based options by setting up a stall that offers delicious vegan dishes. Prepare plant-based burgers, tacos, wraps, or bowls using ingredients like tofu, tempeh, jackfruit, and a variety of fresh vegetables.
Bao Buns:
Introduce the fluffy and flavorful steamed buns of Chinese cuisine with a bao bun stall. Fill the buns with options like braised pork belly, crispy tofu, or marinated chicken, and offer a range of toppings and sauces to create a delightful eating experience.
Wraps:
Provide a convenient and healthy food option with a stall specializing in wraps. Offer a variety of protein choices, such as grilled chicken, falafel, or smoked salmon, along with an assortment of fresh veggies, sauces, and spreads.
Loaded fries:
Elevate the humble french fries by topping them with an array of delicious ingredients. Offer loaded fries with options like melted cheese, bacon, jalapenos, guacamole, or tangy barbecue sauce, creating a satisfying and indulgent snack.
Ice-cream:
Set up an ice cream stall that serves creamy and refreshing frozen treats. Offer a wide range of flavors, including classics like vanilla and chocolate, as well as unique creations such as salted caramel or mango sorbet, catering to different tastes.
Crepes and pancakes:
Delight customers with sweet and savory crepes and pancakes. Offer a variety of fillings, such as Nutella, fresh fruits, whipped cream, or savory options like ham, cheese, and spinach, providing a versatile menu to satisfy all cravings.
Cocktails:
Create a unique stall that serves refreshing and creative cocktails. Offer a selection of signature mixed drinks, mocktails, or even innovative twists on classic cocktails, providing a fun and vibrant atmosphere for customers to enjoy.
Juice and smoothies:
Cater to health-conscious customers by setting up a stall that offers fresh juices and smoothies. Provide a variety of options, including green detox juices, tropical fruit smoothies, or customizable blends, using fresh and nutritious ingredients.
Coffee:
Capture the caffeine-loving crowd by starting a coffee stall. Serve high-quality coffee, both hot and iced, offering a range of espresso-based beverages, flavored lattes, and specialty brews to cater to different tastes and preferences.
Bubble Tea:
Tap into the bubble tea trend by setting up a stall that offers a variety of flavored teas with chewy tapioca pearls. Provide options for customization, such as sweetness level and toppings, allowing customers to create their perfect bubble tea experience.
These are just a few ideas to get you started on your food stall journey. Remember to research your target market, How to make a food stall to start a small business about how to start food stall adapt your offerings to local tastes, and provide exceptional customer service to create a successful and thriving food business. May be like to explore more small business ideas for small towns in India. Good luck with your food stall venture in 2023!